We made a pit stop at a rest area in Cheyenne County Nebraska, just west of Sidney. Not quite soon enough, as it turned out. But while Paul and Ellie were using the facilities, Ada and I were exploring the place. We tossed sand in the sand pit, examined the painted cement turtle, and stuck our heads through the curved peek-a-boo wall. Then we wandered over to check out a "big rock" memorial and talk about it for a while. After that, I wanted to read the sign at the observation overlook so we started up that path. We didn't quite make it, because I was unnerved by the loud rattling noises I was hearing from the tall grass not far from the walkway, especially given the numerous signs warning of local rattlesnakes. It was probably just insects, but . . .
Anyway, while traveling out west, we ran into a few places that weren't quite where I expected them to be. Like Cheyenne County in NEBRASKA (not far from Cheyenne, Wyoming). And Sidney, Nebraska, rather than Sydney, in Australia.
We also saw
Lusk, Wyoming
, which is very different from the village of
Luss
, which we visited in Scotland two years ago.
And
Glendo reservoir
, which is far in every way from
Glencoe
.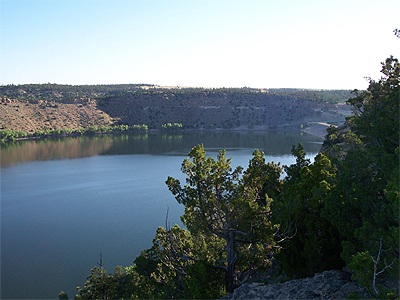 We also found
Caledonia
where I did not expect it.
I love traveling.